Working environment and employee safety protection measures
Facial recognition temperature readers are installed on all floors to detect anyone with a fever entering the office on a daily basis. Employees are asked to fill out health questionnaires to care for the physical conditions of employees. Alcohol disinfectant sprays are also provided and medical grade masks made available to employees.
Professional cleaners are arranged to maintain daily the workplace environment, including sterilizing the work environment and cleaning air conditioners once a year. Professional technicians are hired to periodically perform safety inspections and maintenance in accordance with the law. Fire safety equipment inspections are performed monthly, and in-house fire drills are conducted semiannually. Employees are required to wear their identification cards when entering and leaving the office; visitors or guests are led by the receptionist to register their visits and may not enter the office without permission.
The Company has signed a contract with a security company. The front gate is strictly monitored around the clock to maintain the safety of the office.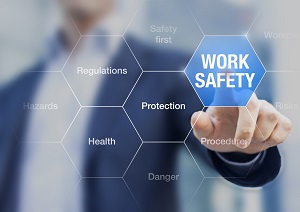 Daily

Review door access management, body temperature checks for visitors, and real-name registration.
Cleaning and sanitation of conference rooms and public areas.
Employees measure their body temperature and fill out the health questionnaire.
Daily fire source inspections.
| | |
| --- | --- |
| Quarterly | The Occupational Safety and Health Committee is convened to review the related strategies and implementation of solutions. |
Annually

Test, repair, and maintain various fire safety equipment.
Convene occupational safety meetings to review, coordinate, and provide suggestions for employee related health and safety matters, and stipulate the annual health and safety plan.
Maintenance of air conditioning equipment.
Sterilization of the entire office area.
Monthly

Onsite physician services.
Vehicle safety inspections.
Emergency facilities inspections.
Fire safety equipment inspection.
Every 6 months

Implement self-protection and fire drills.
arpet and environment cleaning.
| | |
| --- | --- |
| Every 2 years | Check the public safety of the buildings. |
Implementation of health protection and management
The Company provides employ ees with medical check-ups and assistance every year, and has a health manager to assist employees with health inspections, consultation, and recommendations. Each office has a first aid reporting window to effectively guide emergency medical technicians when an emergency occurs. Doctors are invited to provide health consultation services at the office, and irregularly organize health seminars to improve employees' medical knowledge. Automatic blood pressure monitors are provided at each workplace, caring for employees' health at all times.
In order for employees to work without worries, the Company also values employees' family members. The Group provides self-pay health checkup preferential plans for employees and their family members.
Promotion of health activities
A multi-purpose classroom is provided exclusively for employees, a variety of sports courses are arranged and offered in coordination with the sports center, encouraging employees to develop good exercise habits, while raising their health management awareness. The Covid-19 pandemic has forced physical classes to become online courses, in order to help employees continue to exercise.
Dedicated nursing rooms
In order to care for female employees with nursing needs, a comfortable nursing space has been created for the mothers. The space is climate controlled and access is monitored and limited to specific personnel. The entrance is equipped with surveillance equipment. Complete fire safety equipment that complies with government regulations is installed in the space. Several considerate pieces of equipment are provided, including a fridge dedicated to storing the mothers' milk, a freezer, and bottle sterilizer.